This is WIAW week 4! How exciting
Thanks for hosting, Jenn!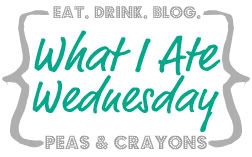 Breakfast

Leftover pancakes with almond butter and syrup! Uh.. I didn't eat all of those. They're just all in the picture.  :)
And an apple.. at least I remembered to take the picture before I ate all of the slices!

Lunch
I got the lettuce wrap idea from Brittany!   I just made tuna salad and put a little spicy mustard on it.  On the side I had pizza goldfish (guilty pleasure) and cottage cheese!


Afternoon Randomness
This picture was before I baked it.. obviously. I had leftover sloppy joe and it was about to be bad, so I mixed in some rice and made stuffed peppers!  I drenched it with sauce and devoured it
I had random snacks throughout the day, like almonds and a granola bar. But they went unphotographed.

What did all you lovelies eat Wednesday?